DCP Premier 16u Starting UAA Title Run
DC Premier 16u has had nothing but success thusfar this season going undefeated in three tournaments heading into the spring evaluation period. The Under Armor Association program has beaten some of the top shoe sponsored teams from Adidas defeating both New World and Team Loaded and most recently an overtime thriller against the EYBL Boo Williams Summer League. The success hasn't gone unoticed in a region flooded with talent as they are finding it increasingly difficult to find teams that are willing to play them. In their first tournament they had to play up in the 17u division in order to get games. In their second tournament after defeating Team Loaded's first team by 30 points the second Team Loaded team decided to leave early and refused to play in the championship game. In it's latest tournament the DMV Elite Live Period Warm Up the only team that would agree to play DC Premier 16u was BWSL EYBL 16u. The game started with DC Premier taking an early 17 point lead and appeared to be headed for yet another blowout victory, however, this proved to be a true test and one of the better games thus far this season. With bragging rights on the table Nike's EYBL team made the game more than competitive coming back and forcing overtime. DC Premier shortened it's 12 player rotation to six players for the majority of the game as Coach Jamal Hulum said he "went with something else" for this game. The excitement turned into a standing room only crowd that saw impressive performances by Wes Peterson (Bishop O'Connell), Zaakir Williamson (Rock Creek Academy) and Kino Lilly (Landon School). Youth director Tony Wilson saw the potential of this group early on recruiting the core of Peterson, Williamson and Lilly along with Terrence Butler Jr, James Gross Jr and Antoine Jacks to the program as seventh graders, although, they've all taken their own unique paths to get to this point.
DC Premier will spend the evaluation period in Kansas City, MO this upcoming weekend and early success won't guarantee anything as games will now have some meaning. Also, teams can no longer decide whether to play or not as the league's schedule is set. Stay tuned as NSP will be covering each UAA session and doing mini updates as the season progresses with it's boys coverage. Follow us on Twitter @NSP_Hoops.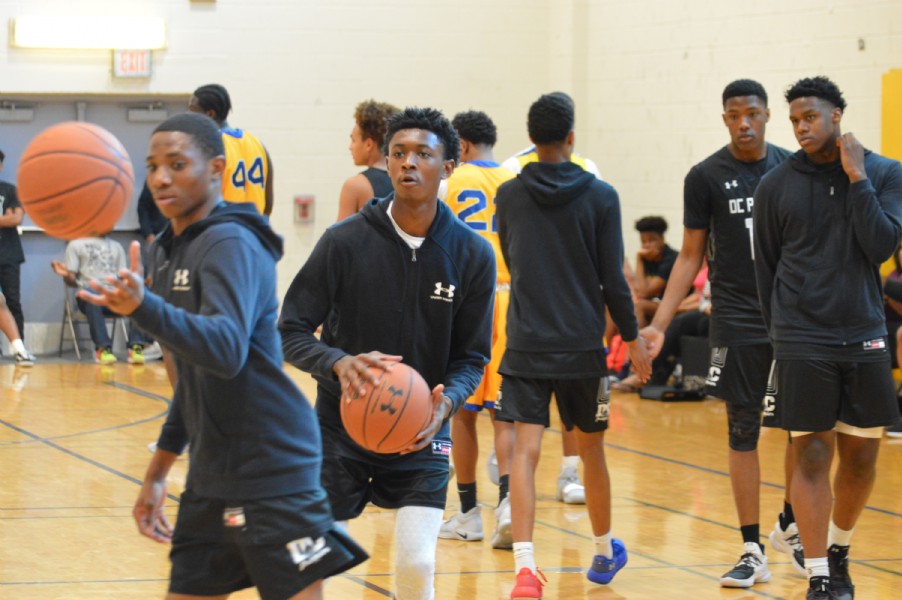 Wes Peterson (21 points) warming up for game