2017 National Title

IX

Holiday Invitational Conference & Classic
DC Armory
Washington, D.C.
The 2017 edition of the Title IX Classic didn't fail to meet the expectations of the past events. The event featured 64 high school and middle school teams competing across 8 brackets over a 4 day period. This year there was an additional JuCo bracket that was a nice touch for coaches and players trying to make the division one connection. The high school division featured several national top 25 ranked teams and a host of nationally ranked players for college coaches to view. The DMV was well represented and showed why this is the nations most coveted area for girls basketball as the local teams won 7 out of 8 bracket championships. With four courts going on simultaneously it was impossible to see every minute of every game, however, Next Sports Phenom hung out the entire time to provide as much coverage as possible, even adding some live stream by request of the games that the viewers wanted to see.
---
TOURNAMENT BRACKET CHAMPIONS
Jerry Kelly Middle School Bracket Champions
Riverdale Baptist MS (MD)
(41-39 win over National Christian Academy MS (MD) )
Simmeon Williams JV Bracket Champions
National Christian Academy JV (MD)
(35-26 win over St. John's College HS JV (DC) )
Donnis Thompson Bracket Champions
Pikesville (MD)
(55-45 win over Bishop Loughlin (NY) )
Bernice Sandler Bracket Champions
Anacostia (DC)
(54-50 win over Bullis (MD) )
Edith Green Bracket Champions
Good Counsel (MD)
(55-31 win over Georgetown Visitation (DC) )
Bob Headen Bracket Champions
West Ridge Academy (NC)
(63-59 win over Hamilton Heights (TN) )
Patsy Mink Bracket Champions
Frederick (MD)
(55-51 win over Monsignor Scanlan (NY) )
Pat Summitt Bracket Champions
Riverdale Baptist School
(70-62 win over South Shore (NY) )

Live stream links:

Riverdale Baptist School vs National Christian Academy
National Christian Academy vs Long Island Luteran (plus bonus coverage)
---
As with all events Next Sports Phenom likes to recognize standout players. NSP chats with fellow evaluator, college coaches and others who know the game and comprises a list of players that perform at the highest levels. Here are some that stood out.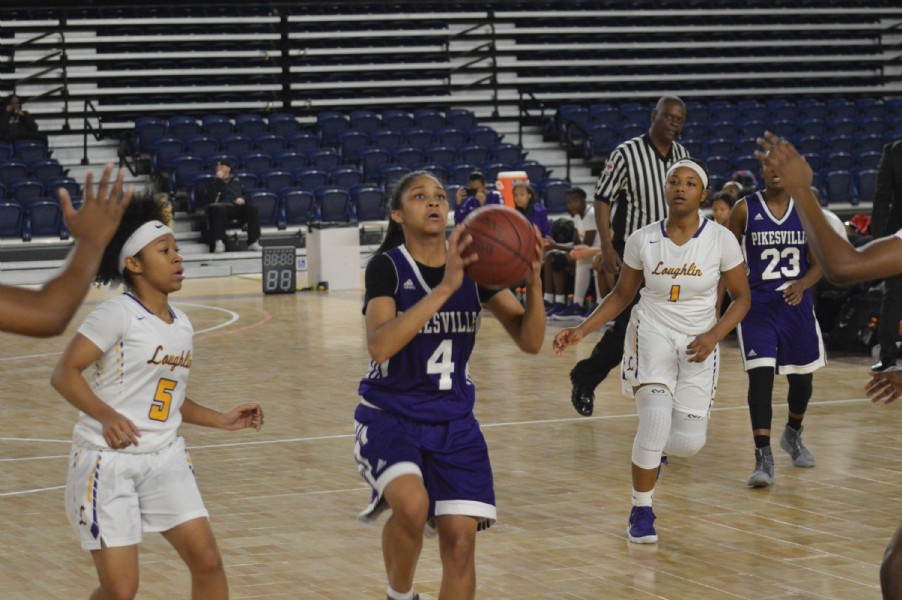 Tyra Robinson - 5'6" - Guard - 2020 - Pikesville
Played both at the point and off the ball, Tyra was impressive leading her team to a championship victory in the Donnis Thompson Bracket where she earned MVP honors.
Ellie Mitchell - 6'0" - Forward - 2019 - Georgetown Visitation
Ellie had one of the most dominating perfomances of the tournament scoring 17 points and grabbing 15 boards in the first half against John Hay (OH), leading her team to the championship game.
Chetanna Nweke - 5'10" - Guard/Forward - 2020 - Stone Ridge
Chetanna's size and skill made her effective both in the post and attacking the basket. She started the break after rebounds and ran the offense a bit at the point.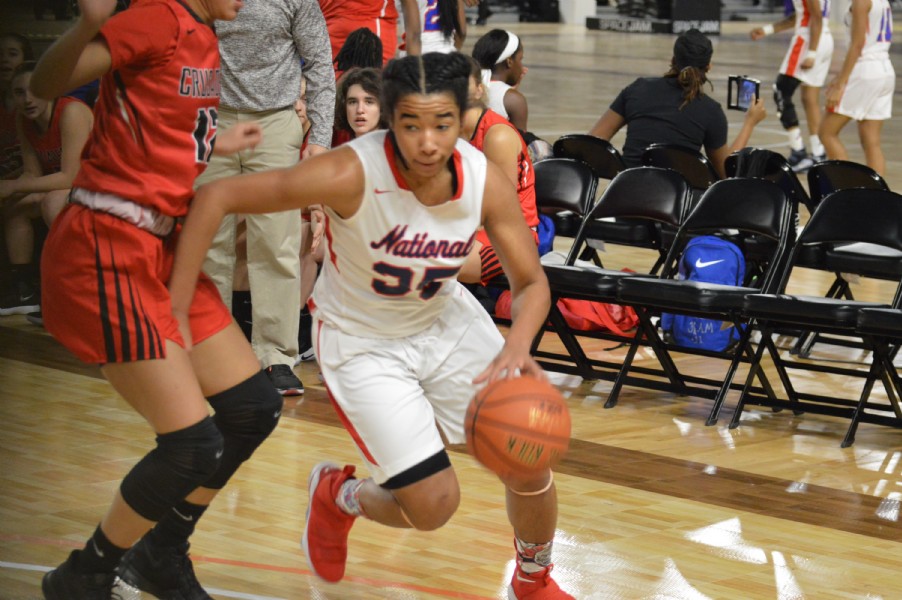 Promise Cunningham - 5'10" - 2019 - National Christian Academy
Promise did a little of everything from rebounding and guarding post players to guarding perimeter players and knocking down 3's. She held her own on the boards versus RBS against multiple 6'4" and up post players.
Latavia Jackson - 5'7" - Guard - 2019 - North Point
Latavia is deceptively quick and had little problem navigating through traffic in transition. She attacked the basket strong and showed that she can finish against much taller opponents.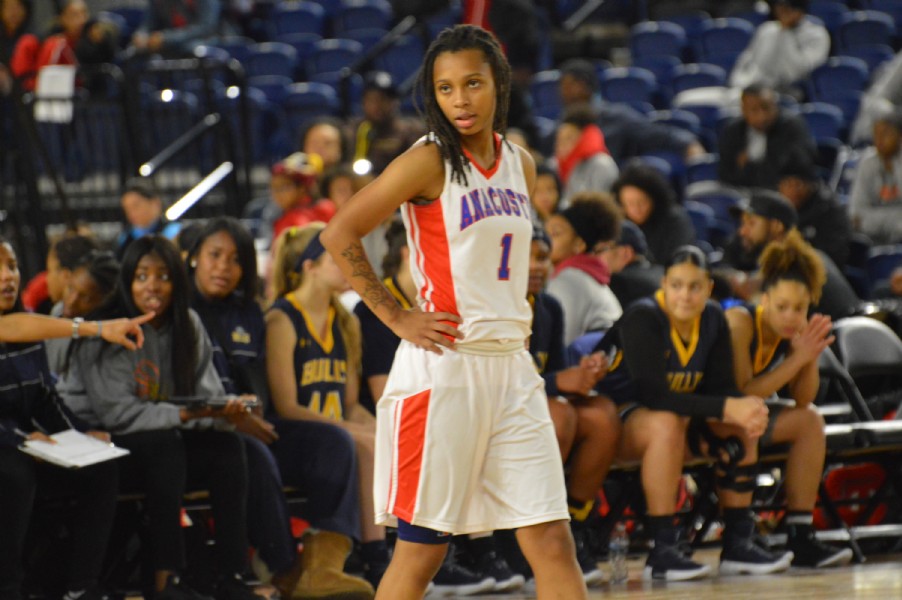 Mya Moye - 5'6" - Point Guard - 2018 - Anacostia
With a name like Mya Moye you would have high expectations of this kid and she delivered leading the D.C. public Anacostia to the Bernice Sandler championship with a victory over Bullis School. Her performance left many coaches scratching their heads on why she is still unsigned.
Kayla Ivey -5'6" - Point Guard - 2020 - Riverdale Baptist School
When things started to get chaotic for RBS, Ivey was there to calm the Crusaders down and get everyone in place. She was a true floor general running the show for thePat Summit Bracket champions.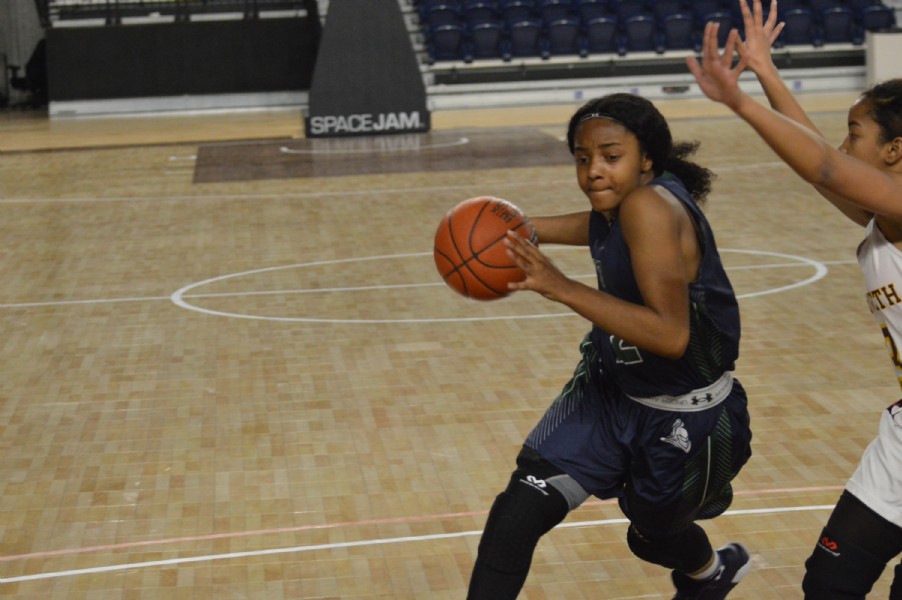 Nhaikyia Smith - 5'5" - Combo Guard - 2020 - St. Mary's Ryken
Smith was the true definition of combo guard as she was able to score effectively from the perimeter and attacking the basket as well as getting her teammates involved dropping off dimes.
Rayne Tucker - 6'1" - Forward - Good Counsel
Rayne's ability to play both inside and outside was huge for the Falcon's winning the bracket championship. She's a great rebounder and finisher.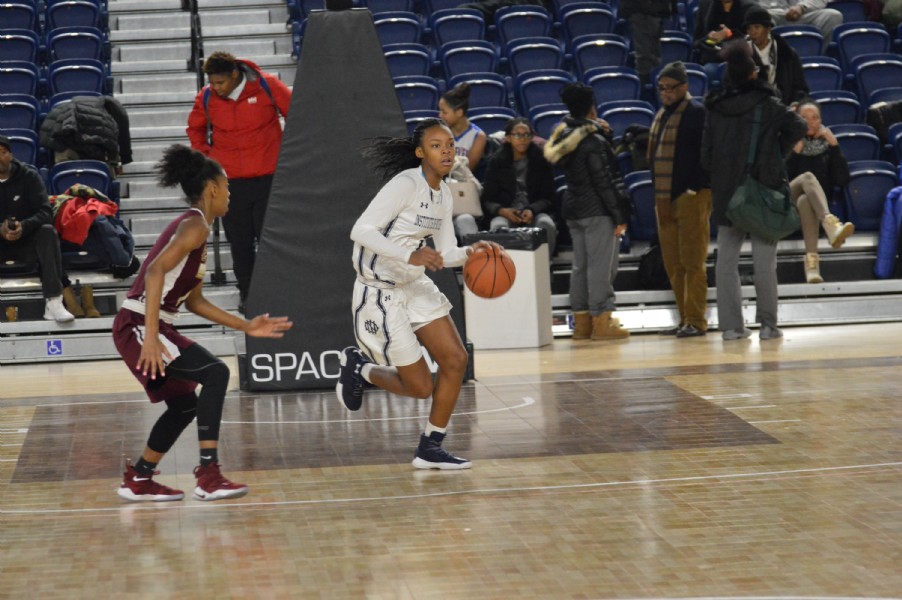 Eniya Russell - 5'11" - Guard - 2020 - Institute of Notre Dame
Eniya nearly single handedly willed IND to a Patsy Mink Bracket 3rd place victory over Murry Bergtraum (NY) with a tournament high 31 points.
Simone Lewis - 5'10" - Foward - 2023 - Holy Trinity Middle School
As a 7th grader, Simone showed high school level skill with a solid frame.
Chloe Chapman - 5'8" - Point Guard - Good Counsel
Chloe was more than likely the fastest player and best defender in the building. She showed off her offensive skill along with some fancy ball handling leading her team to the Edith Green Bracket championship and earning the bracket MVP.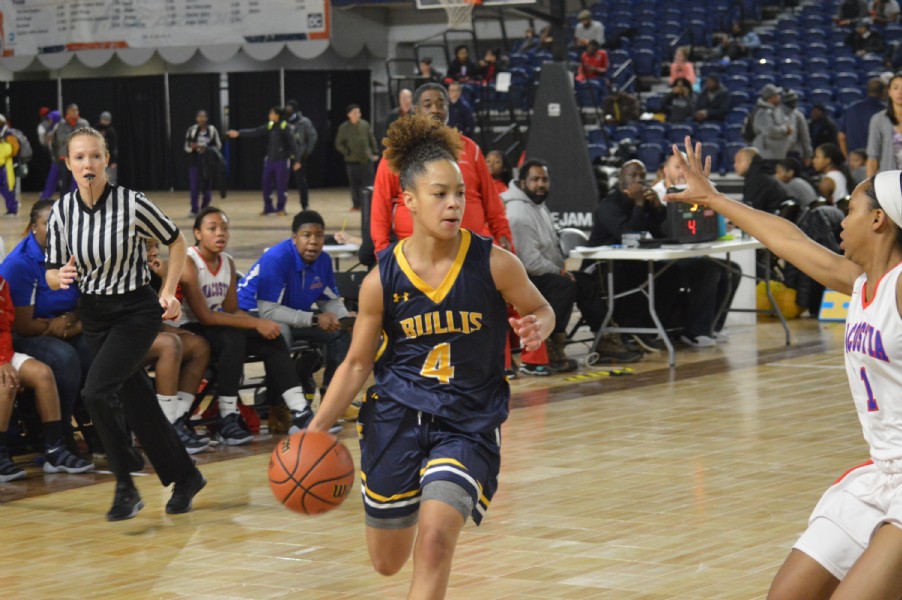 Naia Saddler - 5'8" - Combo Guard - Bullis
Naia shot the ball well and attacked and finished at the rim. She played consistent throughout the tournament.
Rose Bubakar - 5'11" - Forward - 2021 - Frederick
Rose was a rebounding machine for the Patsy Mink Bracket champions. She was effective with rebound putbacks on the offensive glass.
Brianna Jones - 5'8" - Guard - 2018 - Largo
Brianna has good size and a strong body that she used repeatedly to attack the basket and get to the line.
Teylah Saunders - 6'1" - Foward - 2019 - Pikeville
Saunders did a lot of the dirty work on the boards giving Pikesville extra possesions. She has good hands and is a good finisher inside.
Elizabeth Martino - 5'11" - Shooting Guard - Riverdale Baptist School
Martino was one of the top shooters in the building shooting over 90% from the line and from beyond the arc scoring 21 points and leading RBS to a grind out victory against their arch rivals NCA.
Jaelyn Brown - 5'9 - Wing - 2022 - Riverdale Baptist Middle School
Jaelyn's length and ability to get to the basket was a big reason that RBS ended as the Jerry Kelly Bracket Champions.
Qadence Samuels - 6'0" - Wing - 2023 - Walker Mill Middle School
Long wing that can push the ball in transition.
---
NEXT SPORTS PHENOM'S TITLE IX ALL-TOURNAMENT TEAM
PROMISE CUNNINGHAM - 2019 - National Christian Academy
ELIZABETH MARTINO - 2020 - Riverdale Baptist School
CHETANNA NWEKE - 2020 - Stone Ridge
JESSICA SINGLETARY - 2021 - Dunbar
TYRA ROBINSON - 2020 - Pikesville
SHAKIRA AUSTIN - 2018 - Riverdale Baptist School*
ROSE BUBAKAR - 2021 - Frederick
ENIYA RUSSELL - 2020 - Institute of Notre Dame
CHLOE CHAPMAN - 2019 - Good Counsel
NHAIKYIA SMITH - 2020 - St. Mary's Ryken
KRISTIAN HARRIS - 2023 - Walker Mill Middle
TEYHLAH SAUNDERS - 2019 - Pikesville
LATAVIA JACKSON - 2019 - North Point
YONTA VAUGN -2022 - National Christian Academy Middle School
KAYLA IVEY - 2020 - Riverdale Baptist School*
ALEXI HEMPE - 2019 - TPLS Christian Academy
BRIANNA JONES - 2018 - Largo
GIANNI BOONE - 2022 - National Christian Academy Middle School
RAYNE TUCKER - 2019 - Good Counsel
ELLIE MITCHELL - 2019 - Georgetown Visitation
NAIA SADDLER - 2019 - Bullis School
MADISON LOWERY - 2018 - TPLS Christian Academy*
MADISON HARDY - 2018 - Good Counsel*
TYTEANA SEYMORE - 2018 - Bell Multicultural
MADISON DUBOSE - 2018 - Institute of Notre Dame*
SIMONE LEWIS - 2023 - Holy Trinity Middle School
MAKAYLA DANIELS - 2019 - Frederick
TAYLOR WEBSTER - 2020 - Georgetown Visitation
QADENCE SAMUELS - 6'0" - Walker Mill Middle School
KAYLA JACKSON - 2018 - Pikesville
JABRIA BRUCE - 2020 - Paint Branch
MADIESON MCDANIEL - 2024 - National Christian Academy Middle School
ANESIA GLASCOE - 2018 - Friendship Collegiate Academy
ANNIE BOASBERG - 2018 - Sidwell Friends
CHALON MILES - 2021 - St. Mary's Ryken
MYA MOYE - 2018 - Anacostia
NYCERA PRYOR - 2022 - AFYA Middle School
RACHAEL STOVAL - 2018 - TPLS Christian Academy*
TANIA WHITE - 2018 - Largo
JAKAYLA BROWN - 2018 - St. Mary's Ryken*
JASMINE LINDSAY - 2021 - St. John's Catholic Prep
ZENZELLE APESEMAKA-VITAL - 2018 - National Christian Academy*
AMARI JONES - 2021 - Archbishop Carroll
STARR HOWARD - 2018 - Bullis School*
TANIA HILL - 2018 - Capital Christian Academy
GRACE TAYLOR - 2020 - Institute of Notre Dame
JULIANNE GREENVILLE - 2018 - Georgetown Visitation
KAIYA CREEK - 2020 - National Christian Academy
RITA JAMES - 2019 - Archbishop Carroll
* - Committed Senior